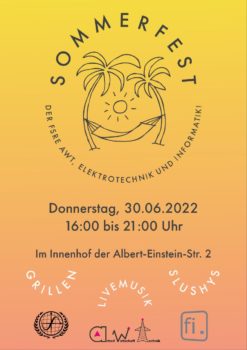 (english version below)
Liebe Studierende,
nun ist es soweit wir laden euch zum gemeinsamen Sommerfest der Fachschaftsräte Informatik, Elektrotechnik und AWT ein! 🎉
WO?
Auf dem Innenhof in der Albert-Einstein-Straße 2
Wann?
Am 30.06. um 16 Uhr startet das Event
Was erwartet euch?
Wir bieten euch verschiedene Getränke und Speisen. Es wird eine Band und weitere musikalische Acts geben. Außerdem bereiten wir einige Programmpunkte für euch vor.
Das einzige, was ihr mitbringen müsst, ist gute Laune und Lust auf einen schönen Abend. Wir freuen uns, seit Jahren mal wieder ein gemeinsames Sommerfest zu veranstalten.
Viele Grüße
FSRe Informatik, Elektrotechnik und AWT
____________________________________________________________________________________
Dear students,
it is finally time to invite you to the upcoming summerevent of the student councils of Computer Science, Electrical Engineering and teachering AWT!🎉
Where?
On the inner courtyard Albert-Einstein-Straße 2
When?
The event starts on the 30th of June at 4 p.m.
What can you expect?
We will offer various drinks and food. There will be a band and other musical acts. We are also preparing some special activities for you.
The only things you need to bring is a good mood and the will to have a nice evening. We are glade to organize a summerevent together for the first time in years.
Many greetings
Student Councils of Computer Science, Electrical Engineering and teachering AWT